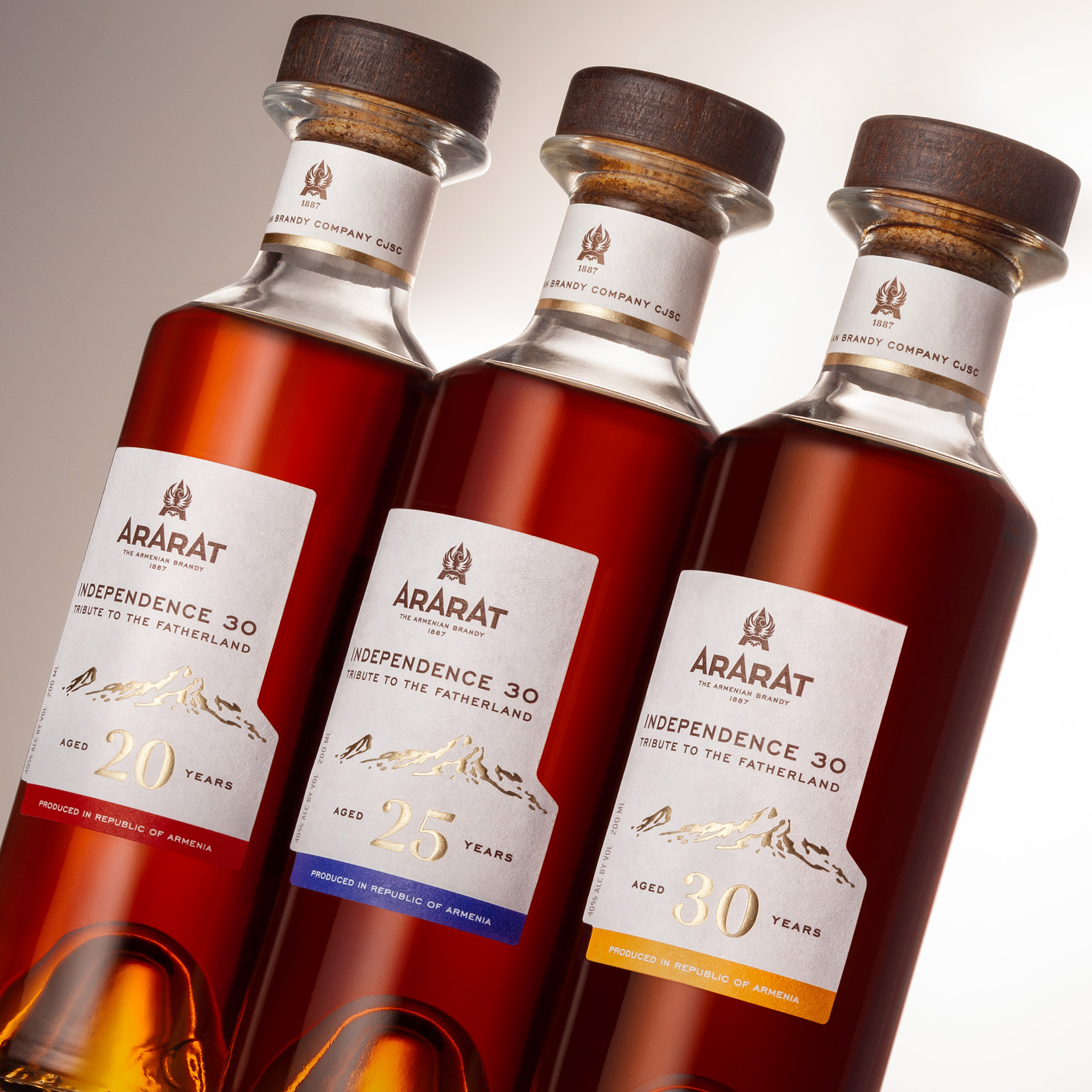 41.

ARARAT Independence 30
January 2021 - August 2021

Creative concept, art direction, packaging

Yerevan Brandy Company is proud to present ARARAT Independence 30 – our dedication to the Fatherland. A set of three cognacs is one of the pinnacles of ARARAT craftsmanship, absorbing all the colors, tastes and aromas of its land.

ARARAT Independence 30 consists of three blends, each of which carries a history of independence.

The 20-year-old ARARAT Independence 30 blend embodies the color red. This is the land of Armenia, its mountains, headed by the majestic Ararat – the soul of Armenia, the source of its strength. The mountains determine the uniqueness of the land and climate of the Ararat valley, where the Armenian grapes, the basis of the legendary ARARAT brandy, are born.

The 25-year-old ARARAT Independence 30 and its blue color is a dedication to the Armenian people, scattered all over the world, but still feeling their unity with their historical Motherland.

The 30-year-old ARARAT Independence 30 with orange color symbolizes the talent and skill of the Armenian people, which is embodied in the legendary ARARAT brandies. They have been produced at the Yerevan Brandy Company for 130 years, based on centuries-old traditions and heritage, maintaining high quality at all stages of production - from growing the vine to bottling.

The bottle is decorated with the legendary Phoenix bird – the symbol of ARARAT and eternal renewal. Phoenix personifies the strength of the Armenian spirit, its ability to overcome misfortune, move forward, and be aspiring to the future.

ARARAT Independence 30 is a triumph of the craftsmanship of generations, a symbol of our faith in Armenia and a declaration of love for the country, containing in every drop of this exceptional cognac.


Some WIPs:
---
© 2018 Igor Borisenko ✔️Art direction ✔️ Branding ✔️Packaging design